Fishing Milk Lake
Grouse Ridge - Nevada County
Beautiful Milk Lake rests in a basin only a mile by trail below the Grouse Ridge campground near Grouse Ridge Lookout. Milk Lake's long shoreline offers plenty of opportunities for good fishing in deep water as well as shallow. The entire Grouse Ridge area is one of the most popular fishing destinations in Northern California because of the accessibility of so many fine lakes.
Making Your Way to Milk Lake
In My Creel
Super Duper
1/6 oz. brown trout Rooster Tail
Panther Martin
Kastmaster
Rainbow trout Thomas Buoyant
1/5 oz. Jake's Spin-A-Lure
I confess that after the sun moved up in the sky I wasn't having much luck fishing with my spinners and lures at Milk Lake. I should have come prepared for fly fishing, but, alas, all I had was my spin casting outfit and a few lures.
The two fly fishermen I saw working the lake were landing trout regularly.
Descend 1 mile from Grouse Ridge, staying to the left at all trail junctions. You will drop about 500 feet. The Milk Lake trail spur is not marked. Watch for it on your left. When I was there a small log had been set across it, as if to keep people on the main trail. If you come to the Round Lake sign, you have gone too far. Go back up the trail a quarter mile. Cutting cross country once you are near Milk Lake will work, but watch out for patches of annoying brush along the northern ridge. Staying with the trail brings you to the western end of Milk Lake, the nicest place to set up as a base for your fishing.
You could also approach Milk Lake from the Carr Lake trailhead. (See the Round Lake trip directions.) It's about a 2.5 mile walk from Carr Lake, but the road access is slightly easier to Carr and at the end of the day you have mostly downhill ahead of you after a great day of fishing instead of a 500 foot climb.
Accommodations and Supplies
Lodging for those fishing at Milk Lake or other nearby lakes is available at nearby Cisco Grove, Soda Springs, or Norden. You also could go over Donner Pass to Truckee where you will find plenty of accommodations.
Campsites at Grouse Ridge are Spartan (no water), but the views are excellent. Camping can also be found at nearby Carr Lake, Lake Spaulding, Rucker Lake, and Lindsey Lake. The best backpacking campsite at Milk Lake are among the trees at its lower end.

To find the very best campgrounds in the area and all across California, visit California's Best Camping.
For complete information about campgrounds, lodging, and recreation around the Donner Summit area, see Around Donner Summit.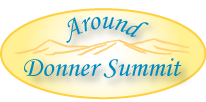 A good selection of fishing supplies, camping gear, and food can be purchased in Nyack, only a few miles west on Interstate 80 from the Highway 20 junction. The store is open 24 hours a day. A gas station and Burger King are located there also. Other places to purchase fishing tackle on the way to Milk Lake include the following businesses:
Will Fish Tackle, 11944 Masters Ct., Auburn
Reel Anglers Fly Shop, 760 South Auburn St., Grass Valley
SPD Market, 735 Zion St., Nevada City, California
Mountain Hardware, Exit 85 to Donner Pass Road, Truckee
Truckee River Outfitters and Fly Shop, 10200 Donner Pass Road, Truckee
Cabela's, Interstate 80 at Boomtown, Nevada
Recommended Books for Fishing Milk Lake
Sidetrips
The entire Grouse Ridge area is dotted with lakes good for fishing. Featured Trips in this guide are shown below. Nearby Downy Lake would make a good sidetrip from Milk Lake. Going north on the grouse ridge trail you could visit Shotgun Lake, but it is more meadow now than lake. You would do better to make the climb from there up to Rock Lake where you will find good camping and fishing.
Staying on the right route while moving from lake to lake can be tricky in the Grouse Ridge area, especially if you strike out cross country. Carry good maps and a compass or a reliable GPS.
Other Nearby Featured Trips in Nevada County