Round Lake Fishing
Grouse Ridge - Nevada County
Round Lake is a pleasant little fishing spot tucked away at the end of a side trail in the Grouse Ridge region of Nevada County, north of Highway 80. The close proximity of a dozen other lakes and an easy approach hike make Round Lake an attractive destination for a relaxed fishing day trip.
Getting to Round Lake
The way to Round Lake from Highway 80 west of Donner Summit is fairly simple. Take the Highway 20 exit and follow it west 4 miles until you come to the turnoff to Bowman Lake. Follow this paved road 8.2 miles to the turnoff to Carr Lake. Travel on a slow, bumpy dirt road for 3 miles to a trailhead parking area at Carr Lake. 4-wheel drive is not necessary unless spring snow is still on the road. (34 minutes travel time from Hwy 20 to Carr Lake.)
In My Creel
Daredevle Skeeter
1/8 oz. black/orange Panther Martin
Acme Kastmaster
salmon eggs
3/16 oz. Bluefox Vibrax spinner
1/4 oz. Cabela's casting spoon
For fishing at Round Lake I brought along a small assortment of trusted lures and baits and a few new ones to try out.
Hike 2 miles to Round Lake, climbing 300 feet. Soon after leaving the trailhead you will pass Feeley Lake. The water level in this reservoir is drawn down in the late summer. After a short climb you will spot Little Island Lake on your left. Keep on going and you will soon see Big Island Lake, also on your left. Although it has good fishing it is a popular destination, so you could pass it by. Just beyond this lake you will come to a trail junction.
Continue toward Round Lake, following the Glacier Lakes trail. After a short, stiff climb watch on your left for glimpses of Long Lake. Soon after that you will come to a sign pointing the way to Round Lake. Forest service maps show Round Lake to the left of the trail, but it is actually to the right as shown on USGS maps.
Accommodations and Supplies
After fishing all day at Round Lake you will find lodging available at nearby Cisco Grove, Soda Springs, or Norden. For a relaxing night with plenty of good restaurants nearby, cross over Donner Summit to Truckee. There you will find a wide assortment of accommodations a plenty of excellent restaurants.
Campsites can be found at Carr Lake, Lake Spaulding, Rucker Lake, and Lindsey Lake. The best backpacking campsite at Round Lake is located at the southern end.
A good selection of fishing supplies, camping gear, and food can be purchased in Nyack, only a few miles west on Interstate 80 from the Highway 20 junction. The store is open 24 hours a day. A gas station and Burger King are located there also. You can also pick up fishing supplies on the way up at Nevada City Angler (Hwy 20 approach), Auburn Outdoor Sports (coming from Sacramento) or Truckee River Outfitters in Truckee or Cabela's in Boomtown, Nevada (coming from the Reno area).
If you are coming up Highway 49/20, stop in Grass Valley at the new Reel Anglers Fly Shop at 760 South Auburn St.

To find the very best campgrounds in the area and all across California, visit California's Best Camping.
For complete information about campgrounds, lodging, and recreation around the Donner Summit area, see Around Donner Summit.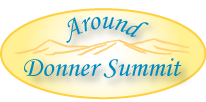 Recommended Books for Fishing Grouse Ridge
Sidetrips
The entire Grouse Ridge area is speckled with little lakes, many of them offering good fishing. From Round Lake you can easily hop over to nearby Milk Lake or down to Island Lake. Nearby lakes found in this guide are shown below.
Staying on the right route while moving from lake to lake can be tricky in the Grouse Ridge area, especially if you strike out cross country. Carry good maps and a compass or a reliable GPS.
Nearby Featured Trips in Nevada County: